The Importance of Motivating your Employees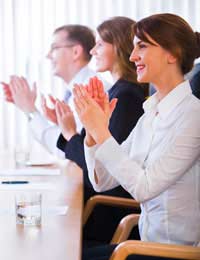 What does it mean to motivate your staff? Motivate isn't something that you can make someone do; as a manager the best you can do is create an environment in which people are able to motivate themselves.
To be able to create a motivating environment, a manager needs to understand what will motivate his or her team and the individual members of the team. What motivates a team is very different to what motivates the individuals; equally, different things motivate different people.
What Motivates your Staff?
A basic understanding of motivation can be found in the theory of Maslow. Maslow 's theory is that people have a range of needs: physiological, safety, belonging, esteem and self-actualisation.
Physiological Needs
These are the basic level that people need for survival: air, water, food, sleep, and shelter. Typically some of these are met by earning a sufficient salary.
Safety Needs
These are needs to do with personal safety and security. It can be mean working in a safe environment (they will not be expected to take any risks that they find unreasonable, such as a reporter in a war zone) and it can also be to do with job security (knowing that they will have a job into the future).
Belonging Needs
These are our desire to belong to a group. These could be work groups or social clubs, religious groups, etc.
Esteem Needs
These are our needs to know that we are good at what we do, and earning praise and recognition when we do a good job. The Employee of the Month is a good example of this, but equally so is being told by our manager that we did a good job.
Self-Actualisation Needs
This is our need to believe that we are everything that we are capable of becoming. This is a very internal desire.
The Needs Hierarchy
The hierarchy of needs is important. There is little point satisfying someone's esteem needs if their basic physiological needs are not meet: for example, praising someone but giving them insufficient salary will not motivate them.
People need to satisfy the needs at the bottom of the hierarchy before they can begin to think about the others. Someone who is concerned for their personal safety is not going to be too concerned whether they are achieving all that they can be.
It's important to remember that people are motivating by a variety of factors. There is no doubting that money is a big motivating fact, but it does not address all of a person's needs. An increase in salary will allow a person to meet more of their physiological needs but it does not address other factors, such as belong to a group or esteem needs.
Motivating Teams
Motivating people as a group is also important. The group needs to understand what is expected of them and how they will be rewarded, as a team. They need to work in a safe environment that they consider satisfactory (such as low noise levels) with conditions that allow them to meet their basic needs (such as having lunch breaks). Encouraging the team though group events, such as a team lunch, can help with motivation.
In Conclusion
A motivating environment consists of a number of factors: It addresses the basic needs of the person so that they can move on and consider their other needs. They need to feel safe, both physically and personally in there ability to meet their needs in the future. They need to belong to a group, so creating a strong team environment is important.Feeling an essential part of a highly effective team, is very motivating. Praise and rewards play an important part of management motivation: people need to feel that their efforts will be recognised. But it is important to use praise and rewards only where appropriate, otherwise truly outstanding behaviour isn't distinguished from mediocre. Finally consider that people strive to be the most that they are capable of. Help people understand where they want to be and what they would like to achieve, and you can support them by giving them opportunities to test their limits, excel in their abilities, and new skills.
You might also like...