Are You in Control of Your Team?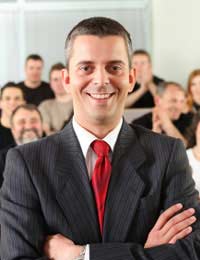 An effective manager strives to create a team environment that promotes initiative taking and independence. When we manage teams we encourage them to make decisions as a group and expect them to take responsibility for their work. Our job, as managers, becomes much easier when teams are confident and capable of carrying out their duties without handholding. However, management is there to provide leadership, so what does this really mean when we talk about remaining in control? And how can a manager remain in control of their team, while still giving them the leeway to take initiative?
What does Leadership mean when you are a Manager?
Leadership is about providing guidance to a team. It means leading the way and showing direction. A leader is someone whom people can go to for advice and support and it is also the person who will make a decision if the team are indecisive or in conflict.
A leader could do all of these things but still not be in control of his or her team. The key element that is missing is monitoring. Such as the general that leads the army into battle, he doesn't just lead his men forward without looking back or waiting for them to shout for help. For if he did keep marching forward without turning around, he might eventually find that he has no army behind him. He may have failed to notice when they tripped and fell, or his army may just have abandoned him all together.
Staying in control of your team is about turning around and checking.
Checkpoints for staying in Control
Stress levels. Are people coping with the type of work and the workload?
Happiness levels. Are people pleased to come to work? Do they seem to enjoy the work that they do?
Feedback from other people outside the team. What comments are you receiving about the team's work? behaviour? From customers? Other people in the organisation?
Work progress. Are deadlines and commitments met? Are you informed of any delays with adequate notice?
Team cohesion. How well does the team work together as a group? Does everyone in the team contribute equally? Are dominant members giving others the opportunity to participate?
Status. Are you aware of the current status of any work? Key issues?
Performance levels. Are people suffering from excessive workloads over an extended period of time? This can result in performance dropping from a normal expected standard.
Illness and absence rates. If people are frequently off sick then this can suggest that they are under stress or unhappy to come into work.
No of surprises. How frequently are you given shocks and surprises by the team? Late deliveries? Misunderstood work? How long did it take for you to find out? As the manager you should not be the last person to find out.
Who is making the decisions? It's great if the team are making decisions however only if they are making the right ones and ones that you agree with and support. If the team are taking decisions outside their level of responsibility, and ones that you do not agree with, then this is a big red flag to address the situation.
In Conclusion
Staying in control is not about micro-management (where a manager insists on doing or knowing everything). Control is about staying informed about the important issues and the status of the team's work. Control is about monitoring progress to ensure the team stay on trace, and it's about being available for the team members so they can involve you when needed.
You might also like...
hello, can you advise me if i have team, how i can evaluate individual and team performance against my company objectives also, how toEVALUATE A RANGE OF METHODS THAT SUPPORT PERFORMANCE IMPROVEMENT regards
Ajasm
- 25-Sep-18 @ 4:57 AM