Dealing with Inappropriate Behaviour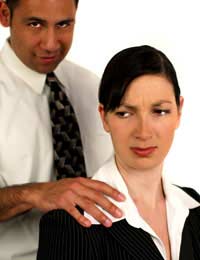 One of the most unpleasant tasks a manager faces is dealing with inappropriate behaviour. However, the guidelines below should help you manage the situation effectively.
In some cases it will be very clear what is inappropriate behaviour: as a society we have clear laws and rules for what isn't acceptable in the workplace, such as prejudice or harassment based on race or gender.
Organisations often have further rules on behaviour that is not tolerated within the company. In these instances you have a clear situation on inappropriate behaviour that must be dealt with accordingly.Your Human Resource department will be able to guide you on appropriate actions depending on the behaviour involved.
However, there can be times when inappropriate behaviour is less clear. As a manager, it is important to take all cases of inappropriate behaviour seriously. If something that has been brought to your attention, that you have not personally witnessed or experienced, you need to investigate.
Any allegations of inappropriate behaviour must be supported with fact. All parties involved must be given an opportunity to explain the situation before any conclusions are drawn.If you have a clear situation of inappropriate behaviour, it must be dealt with in a professional manner.
Involve Human Resources
Depending on the inappropriate behaviour you may need to involve your Human Resources department. Situations, such as harassment, must be handled appropriately and it is in your benefit to ensure that you have acted correctly. Any mistakes you make may be detrimental if the person is dismissed and they later pursue the case legally. Your Human Resources department can offer you guidance on how you should manage the situation. It may be that you have to document your meeting and any agreed action.
Raise the Matter Personally
Discuss with the person involved the incident, or incidents, that have occurred and that the behaviour is inappropriate. Refer if appropriate to any company rules, which states it is unacceptable.Be specific and give examples. As the person's manager, you need to help them understand what exactly is unacceptable.
Make it clear that you are taking the situation seriously, that the behaviour is not accepted and will not be tolerated. Depending on the behaviour involved, it may be sufficient to issue a warning, but be clear with any consequences. If the person will be dismissed if the behaviour happens again, then be clear and say so.
Explain what is Acceptable
It is important that you explain to the person involved what is acceptable behaviour. For example, in the case about with the inappropriate clothing, explain what is acceptable attire for the office. In some cases the person involved may genuinely not know, and need your guidance.
Matters of Lesser Severity
Thankfully not all inappropriate behaviour is sever and there are some that are small mistakes or misunderstandings by the person or persons involved. These can hopefully be quickly addressed and prevented from reoccurring. Examples of this may be: regularly late for work, wearing inappropriate clothes or making inappropriate jokes at the office. While these may not be severe, they must be addressed as soon as they occur to prevent it continuing. If a person is allowed to continue with the behaviour then it is a clear message to them, and all staff, that it is acceptable.
You might also like...
@tita - You would have to look at your contract and it would also depend upon your manager.It would most certainly be misconduct and maybe gross misconduct.I suspect you will find out soon.Next time a. don't do it at work and b. if you do don't do it on camera!!
if 2 employee's are cought on tape within the work place having sexual hands on intimacy can they be fired even if it's not during work hours.
tita
- 21-May-12 @ 5:54 PM