Building Effective Relationships with your Employees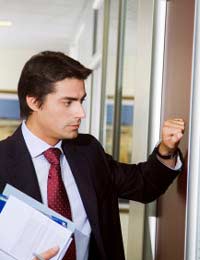 What is an effective relationship with your employees? It is not one where you always getting along, but it is one where both parties feel able to raise concerns, where communication is open, and where both have respect and trust for the other.
We don't always get the team that we would choose; sometimes we inherit teams and have to manage people that we would not personally have hired. We still need to find an effective way to work together.
Have Clear Boundaries
Discuss expectations with your staff and allow them to ask questions so that they understand what you want from them. Explain what your role is as their manager, and what they can expect from you. Ask them what they need from you as their manager. Upfront conversations can help avoid misunderstandings in the future.
Open Door Policy
An open door policy means that you frequently have your door open and that your staff, and others, are welcome to come and speak with you. It's important that you explain to your staff how you like to operate. If you prefer that your staff make appointments in your diary than to just drop in, say so. Make it clear how and when your staff should see you, should they need your advice or input. For example, give them a window when you will be able for anyone to drop by: such as between 9 and 9:30 every morning.
Regular Meetings
Set up regular meetings with your staff, meeting every week for a short period of time is better than a lengthy meeting once a month. Giving you staff the opportunity to speak with you on a regular basis, shows that you are interested in what is important to them, and gives them the ability to air any concerns before they become major issues.
Get to Know your Staff
It's important to get to know your staff, and this means interacting with them outside of your office. It may mean working with them on a particular task, such as preparing for a presentation or organising the staff Christmas party.
When agendas get hectic and matters urgent it can seem prudent to move straight into work issues, however there is a place for small talk. Finding out about someone, means getting to know them and asking them about their weekend not only puts them at ease, but also may show you a side to that person you weren't aware of.
Equally your staff need to see you as a person and not just as a manager. This may mean joining in with a social event; becoming one of the team.
Vary your Management Style
Your team will undoubtedly be made up of a variety of people, each motivated in different ways. Understand the individuals that make up your team and vary your management style accordingly. Some people like to work with more independence while others need to have more direction.
Coaching works well with many employees, encouraging them to take initiative and find innovative solutions, however this doesn't work for everyone and in all situations. In some circumstances you will need to provide more direction than others.
Be Clear and Objective
It's important that your staff understand what you expect from them and how their work will be assessed. Be clear with what you want them to do and specify any deadlines. Also explain any implications if quality or deadlines aren't met. Give them an opportunity to ask questions and ensure they understand how they should approach you for help. An effective working relationship is one where they inform you of any concerns or delays before they become an issue.
You might also like...