Setting Team Objectives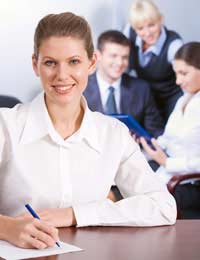 As a manager you are responsible for setting the goals and objectives for your staff. So, if they have individual objectives do they also need team objectives? The answer is definitely yes.
A team must understand and agree their shared goals and be able to 'picture' the vision or targets they are trying to achieve. Once they agree and understand the goals and targets they are better able to work together to achieve the required results. While individual objectives can help to support this, these are more focused on individual development.
Objectives and goals helps a group focus as a united team with one shared objective, and can avoid the situation where you have a group of people that are not coherent and more a 'collection of individuals' rather than a team.
Objectives Specific to Teams
These are objectives that encourage and support the team working together and foster the belief that the sum of the whole is more than its individual components.
An example of a team specific objective would be: An increase in customer satisfaction targets by 10%. Such an objective encourages an overall improvement in the group and not just individual improvements from only some employees.
Get the team to help define the objectives as a group exercise. By working together to agree their targets and goals, they are also beginning to formulating ways of achieving these together. Encourage the team to test their objectives against the SMART principles detailed below.
The Vision
It's difficult to get somewhere if you don't know where you are headed. The Vision is about picturing where the team needs to be in the future: Is it increasing production, improving performance, increased customer satisfaction targets? These are just some examples.
Once the Vision is understood and agreed, objectives to achieve these can be produced.
Working Together
It's great to have a vision and objectives to get there, but when deadlines start looming and the pressure mounts, it's easy to put them on the backburner.
As a manager, how can you ensure that the team remain focused on their objectives?
Ensure they monitor them regularly, as a team and with you as their manager
Understand that the environment can change and that objectives sometimes need to be revised. What is the Vision today can change dramatically tomorrow, and if this is the case, personal and team objectives need to be revised.
What Makes Good Objectives
Applying the SMART Principle to the team's objectives is a good test of whether they can be improved:
Specific: The team needs to understand precisely what is expected of them. Any lack of clarity can result in the team aiming off target (and missing the goal – the visions)
Measurable: How will we know that we are on track? Particularly if the objective will take some time to be realised? Can we measure part way to know that we are heading in the right direction?
Achievable: Does the team members buy into the objectives? Do they believe that can deliver what is expected of them with the skills, training and time available?
Realistic: Are the objectives realistic? Will the goals you have set the team realistically deliver the vision desired.
Timely: You might have met all the criteria above, but do the team have sufficient time to do a competent job?
You might also like...
Great wisdom if slightly academic, I mean really? There may not be an I in doctor but neither is there a we. And that lady in the picture is clearly not happy, seems she hasn't heard of a sonic rabbit.
The Doctor
- 20-Sep-12 @ 9:53 PM