How to Build a Cohesive Team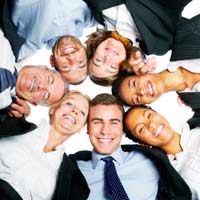 When a manager is tasked with forming a team, they strive to build a cohesive group. The benefits are clear: if we wanted a number of individuals to perform the work we wouldn't be forming a team. We want a team because the results from the individuals working together will be greater then if they work alone.
So how can you, as the manager, build cohesion in your team?
Understand Strengths and Weaknesses
Get to know the members of the team. What are their strengths and what are their weaknesses? Allocating work according to people's abilities not only ensures the best results but helps establish clear roles within the group.
Promote Interaction amongst the Team Members
It's easy for a team that sits together to interact, however it is much more difficult if they are not based in the same location. As a manager, it's important to encourage interaction amongst the team. Promote workshops where the team brainstorm ideas rather than individual solutions. Allocate activities to the group where the individuals each contribute a component; have a role that is responsible for pulling all the components together.
Ensure there are regular events that bring the team together. This may be team meetings, status and progress updates, or social events. Events outside work can help the team get to know each other and foster positive working relationships.
Team Roles that Interlink
Teams are made up of individual roles however if these roles are interlinked it encourages the team members to work together. For example, rather than giving complete sections of a programme to someone to code, it can be distributed amongst a number of programmers to each write a component. Encourage people to become involved in different aspects; perhaps the programmers can also assist with analysis beforehand or testing afterwards.
Teams need Team Objectives
Such as individuals needs clear goals and objectives, so to do teams. If each individual understands their own objectives, but the group, as one unit, does not, the team struggles to see their purpose. Take time at the beginning to explain to the group what the team objectives are. Give them time to ask questions, and give them exercises as a group to understand what they are trying to achieve. Explain the importance of each role in the team and the importance of all roles working together for success.
Encourage the Team to Support each other
As the manager of the team, it is typical that many of your staff will come to you for advice and support. This is not something to discourage, however you can also promote the idea of going to colleagues for assistance. Teams that can support each other can quickly move on from obstacles, and it fosters a positive environment where team members feel they are not alone when faced with a problem.
Team training
While people generally enjoy being part of a group, not all people like working in a team and sometimes personalities will clash. Address these quickly and consider group training or exercises, which help individuals in a team understand the different personality traits of the other members. Good working relationship amongst team members are essential for team cohesion.
Team conflicts
Sometimes teams will struggle because individuals do not agree, personalities clash or needs differ. Tension in a group can be very negative and impact productivity badly. Don't allow disagreements to foster and address any issues quickly. If the problems cannot be resolved then potentially some members may need to be replaced.
In Conclusion:
As a manager, you can foster a cohesive team through good communication and encouraging team interaction. Consider training and events to pull the group together and remember to address issues quickly, before they impact all members of the team.
You might also like...
Thank you for your very laid back, yet informative articles on management etc . I'm new to the management role so every little helps. Do you do accredited training preferably online? Would be glad to hear it. Regards Evelyn
Nimushine
- 22-Jul-16 @ 9:21 PM