When Someone Isn't Right for the Job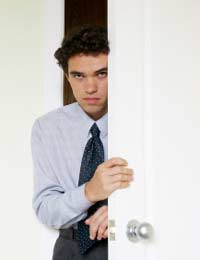 It is sometimes tempting to believe that, as highly effective managers, we should be able to work with everyone, and help all our staff be successful. Sadly this isn't the case, and there are times when, for a variety of reasons, an employee just isn't suitable for a job despite all your attempts to help them adjust and adapt.
Firing an employee, or moving an employee into a new job, is one of the most stressful tasks that is required of a manager. So what can you do, not only to make the task easier for yourself, but to help the person move onto a new situation?
Clarify your Facts
Explore all avenues to ensure that the person is truly wrong for the job. Give the person ample notice and time to improve their performance. Speak with them and give them an opportunity to explain any other factors that may be affecting their performance (such as health or other problems outside of work). Is the poor performance a dramatic change from past performance, which may suggest something else is going on. Has their behaviour changed recently?
Be Clear About Why the Person isn't Suitable
If your reasons for lack of suitability are vague the person will take it personally or try to fathom reasons of their own. Make it very clear from the beginning why they are not meeting the requirements of the job. If you have feedback or factual evidence of the problem or problems (such as an email from a customer, or a poorly written report), then share this information with the employee (however you may need to remove any names if the information was provided confidentially). Give examples of where the work or behaviour is incorrect, and then help explain what is acceptable quality or behaviour.
Don't Make it Personal
Explain what it is that the job requires, such as skills and behaviours, and clearly outline where the employee has not delivered to the standard required. Help the person understand what skills or behaviour traits they are missing. Perhaps the role requires a lot of analytical skills and the person has not been able to do the work. If could be that the role requires certain softer skills, such as good customer relations, and the person has a different personality type. Whatever the reason, make it clear so the person understands the type of jobs that do not suit them.
Remain Focused on the Job
Remind the person that just because they are unsuitable for this job, it does not mean they are unsuitable for all jobs. Many people find it very difficult to be confronted by such a failing and it can be a huge blow to their confidence. Help the person understand where they did have strengths; this can help them focus on these skills are find a more suitable job in future.
Opportunity for Change
While loosing a job is an unpleasant experience, it can also be a time when a person takes the opportunity to change their career directions. Someone with a high pressure job may decide that they no longer want to work at such a pace. Another may decide that they want to learn new skills and move into a very different career direction.
Sometimes people end up in careers simply because events happened, and it is not necessarily the job they always wanted. It often takes a big shake-up, such as loosing a job, to realise what their dream job is, and to give the person the courage to pursue it.
You might also like...