What is Strategic Change?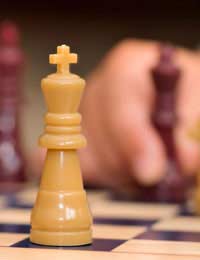 Planning and implementing strategic change is an important aspect to the management role. Strategic change is a term that is frequently used in business, but what does it really mean?
In basic terms strategic change is about having a strategy to manage change. Strategy is derived from the Greek wood "strategos", meaning: stratos (army) and ago (ancient Greek for leading).
A strategy is a long-term plan to achieve specific objectives or goals. Strategies are focused on the future and bring about sustained change, and typically require detailed planning and analysis.In Business, strategy planning is often seen as key to future success or even survival. With the world changing at a rapid pace, companies need to be dynamic and flexible to stay in business. They need to foresee the future and be ready to adapt to the potential changes that will come their way.
What If Analysis
We don't have crystal balls in business and hopefully the decisions we make are based on sound knowledge and facts. But when planning for the future there is an element of the unknown. To be ready for the future we do need to consider 'What If'. What If, this event happened? What would the impact be to business operations? What would be our potential exposure to risk? We need to consider what potential changes may occur, both positive and negative, in the future.
That may seem like a very broad task but you might be surprised to know that some very well known companies managed to survive large scale changes simply because they predicted them, some which seemed very unlikely at the time.
Being Prepared
The act of simply considering what might happen is the first step to preparation. If we think there is a likelihood that something may happen in the future, then we have two courses of action: we can choose to live with the risk or we can choose to mitigate, or attempt to avoid, the risk.
Planning
Planning is a key aspect to the management role. We plan what we will do next week, next month, next year and so on. Strategic change is long-term and is about focusing on where we want to be in one years time, in five years, in ten years.
If we want the organisation to be different in five years time, this will not be achieved by simply planning each month until we get there. Real change needs careful, thought-out planning. Major change, such as restructuring or major process reengineering, needs a comprehensive plan, or action-list, to get from today to the five year (as an example) goal.
Setting Goals
We cannot plan a journey if we do not know the destination. Whether changing the organisation or planning a holiday we need clear goals, not just for the end destination, but places that we will pass on the way, so that we know that we are on the right track. Interim goals allow us to measure whether we are heading in the right direction and whether we are likely to achieve our goals in the necessary timeframe.
What if Things Change?
Undoubtedly they will. We can come up with a great five-year plan and tomorrow something major might happen which turns it upside-down. Management needs to regularly review all plans – yearly, five year, ten year – to insure they remain relevant and appropriate to the business. New opportunities will arise and it is important that the strategic plan is flexible enough to take advantage of these. Change is inevitable and managers must be able to adjust accordingly to ensure that goals are appropriate, achievable, and shaping the company into its vision of the future.
You might also like...