Becoming a Leader That Others Look to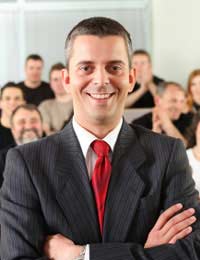 As a manager, we all aim to be a leader that others look to, as an example, and to follow. It is likely that you have, in your career, come across a manager that has been a true leader; one that inspired and brought the best out of those that worked with him or her. So how can you be more like that inspiring leader?
Humility
Highly successful leaders are also very humble and willing to serve others. Arrogance is not a trait that will help any leader. Humility means that you are interested and willing to listen to others, that you have a desire to know more and to improve yourself.
Effective Listener
If people believe you are genuinely interested in them and what they have to say, they will then, in return, become interested in you and what you have to say.
Effective listening is about hearing what someone has to say, respecting and seeking out his or her opinion, and then taking it into consideration.
Understand Your Strengths and Weaknesses
A strong leader knows what they are good at and what they can contribute, and equally important, they know what they are not good at. With this knowledge they can seek advice when appropriate.
Do What You Love
Most Leaders are driven and inspiring. They love what they do. They believe in what they do.
Big and Bold
A powerful leader has dreams and aspirations that are not small or insignificant. To some they may seem unachievable, but to the leader that simply makes him or her more driven.
Vision
They don't just have a dream; they have a plan for how to get there and a vision for what success looks like. It's about having goals and targets and keeping on track to achieving them.
Perseverance
To be a successful leader is hard work. To achieve your dreams and goals is hard work. You need to be able to persevere, even when dreams seem hopelessly out of reach.
Integrity
Keep your word and keep your promises. Trust takes time to build, so your integrity is essential to success.
Plan
Don't rush head long into something simply because you think you know best. Take the time to get your facts right, to seek out the opinions of others, and then plan the most appropriate course of action.
Hone your Communication Skills
Be able to be an outstanding communicator, whether one-on-one, at a meeting, or as a presenter to a group, is essential for any leader. This means the ability to engage your audience, communicate quickly and efficiently the key aspects of your message, and to inspire people into action.
Learn from the Mistakes of Others
It's likely that you're not the first person to travel down a particular path. Don't repeat the same mistakes that others have make; do your research, use your network, and use their knowledge and experience to enhance your plan.
It's Not All About You
Use your team. No leader is successful if they believe they have to do everything themselves. This simply distracts them for the important tasks they should be focused on. Get to know your team and their strengths and weaknesses. Having a team you can rely on is a powerful tool for any leader.
No one can become a great leader overnight; it takes time to build up respect and to earn the trust and admiration of others. But as managers, we can all follow the example of other strong leaders, and develop in ourselves the skills and abilities to be leaders that others follow.
You might also like...