Earning Respect in Business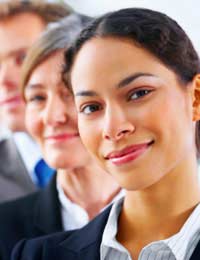 Respect in business is something that is achieved over time. There is much that you can do to earn the respect of others, whether your colleagues, your staff, your managers, or your customers. Consider the people that you respect in business: what is it that they do that earns your respect?
Be Professional
In your approach, in your manner, and in your dress. Regardless of the situation and your stress levels, in business it is important to remain calm and keep your emotions in check.
Always be professional in your behaviour: being on time for meetings, well organised and maintaining a workable calendar, and being attentive to all colleagues when speaking with them.
Be Reliable
If you say you do something, then do it. If you can't, then tell the person as soon as you know there will be a delay. People that earn respect from those around them are dependable, regardless of how small the task is. If you are asked to do something, don't delegate it to someone else without informing the person waiting for the task to be done.
Be Honest
Saying no will earn you respect. It's all about setting expectations. It's far better to say no, then to say you'll do something and then fail to deliver.
If you disagree with something then speak up; remaining quiet and then harbouring discontentment does not help the situation. People will respect you if you support your concerns with facts (not emotions).
Be an Expert
Understand your areas of expertise as well as those areas that are not your speciality. No one is expected to know everything, so seek advise in those fields that you don't fully understand, and provide your knowledge in the areas that you are an expert.
Be Helpful
Helping others and contributing to the group is all about being a team player. Working only to better yourself will not endear you to your colleagues nor will it earn you their respect.
Be Positive
The person who always sees the negative and always finds fault, is not much fun to be around, nor are they helping the business move forward. That's not to say that you can't say that something isn't right, what it does mean is approach it in a positive manner. Find solutions don't just highlight problems.
Be Ethical
Ethics are about deciding what is right and wrong and making the right choice. Ethical integrity in business is not about what you say, it's about what you do.
Be Fair
No one likes to feel that they've come out the worst from a negotiation. While not everyone can be a winner, it's important that they feel that the decision made was fair even if they don't agree with it.
Be Courteous
Whether in person, in correspondence, in meetings, or in emails, it leaves a good impression to always be courteous.
Earning respect in business takes due diligence and hard work. While it isn't possible to impress everyone, earning respect is about setting the right expectations and treating everyone in a professional manner. Consider your behaviour in the office and take the time to be courteous, fair and ethical in your dealings. Understand your strengths and equally your weaknesses, and contribute in those areas where you are an expert.
You might also like...