What does RACI mean?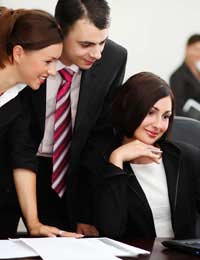 Delegation is an important aspect of a Manager's role, and clearly identifying roles and responsibilities is essential. Applying the RACI model can help you, as a manager, indicate your expectations of the people involved in a particular job, task or decision.
Typically a task can require the involvement of many people, but how do you avoid the situation where you have people struggling against each other to do a task, or equally difficult, where no one will take the leadership and make a decision? How do they know their level of responsibility, when they should involve you as their manager, or when they should use their initiative?
This is where RACI can help. There are a number of variations on the words used, but typically RACI stands for:
R is Responsible
A is Accountable
C is Consulted
I is Informed
In explaining these four types of involvement, consider a particular task or piece of work or decision, and ask the following questions:
R is Responsible
This person is generally the doer or coordinator who ensures the work gets done. They have responsibility for getting the task done or the decision made. They may do the work or gather information and they make recommendations to the person accountable. But they are not held ultimately accountable for the outcome.
In a project environment, this would be the Project Manager.
A is Accountable
Who is the person that will be held accountable for any outcomes of a decision, or results of a job? Who will ensure that the job is completed satisfactorily? Who will take responsibility if things go wrong? Who will stand behind any decisions that are taken, regardless of the results?
In a project environment, this would be the Senior Executive or Manager who takes ultimate responsibility (Sponsorship) of the project.
C is Consulted
Generally a task or decision will require the input from many. The Responsible person seeks information from these people, and will make his or her recommendations from the findings. While people who are consulted may have opinions (and these may be taken into consideration by the person Responsible) they are not decision-makers nor are they accountable for any outcome of a decision.
In a project environment, this would be subject matters experts or people with relevant information.
I is Informed
These are people who do not contribute information to get the job done or to make a decision, but they are affected by the outcome and there need to be informed.
In a project environment, this could be, for example, the Security function, who needs to be informed that people will be working in the evening.
Why use RACI?
RACI is helpful where they are a number of people involved in the completion of a task or in the making of a decision, and it is not clear what everyone's responsibilities are. As a manager, it is important to clearly identify your expectations and to avoid any potential confusion over roles and responsibilities.
Without clear distinction between the role of Accountable and Responsible, the person tasked with the role of getting the work completed (Responsible), may struggle as they try to perform the role of Accountable, but cannot (due to a lack of authority or influence).
Likewise, if it is clear that some people are providing information but are not doing the work, they understand the level of involvement that is required from them.
You might also like...