Empowering your Team to be Their Best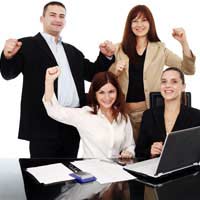 An effective manager empowers his or her team to be their best. They are responsible for creating an environment where people can be successful as a group. A manager fosters positive team dynamics to ensure the team functions effectively. And a manager ensures that the team works together to ensure the strengths of the group are utilised.
Teams in business vary greatly. There are teams that are logical results of an organisation, such as functional groups like the Human Resource department. There are likely to be sub-groups within these: such as Project Teams. Some teams exist for an indefinite period of team; other groups, such as those formed to deliver a specific project, disband once the project has completed. Teams can be made up of a variety of people, sometimes from within the same function, but also frequently made up of people from across the organisation. It is not uncommon for a project to have technical and business people from a variety of disciplines. To make matters further complicated, teams can also be geographically distributed. A project team may have members from across the world, and the people may never actually meet in person.
So in summary, employees often belong to many teams, and these teams can exist for varying lengths of time, and they may work together with people from different functions, different organisations (such as when consultancy organisations are involved) and from different countries.
When you consider such a complex environment creating an effective team environment doesn't sound such an easy task for a manager. But there are some basic tips that can help you achieve the best from your teams.
Be Clear on the Teams Objectives
Ensure that everyone on the team understands the objectives and goals of the group. While they can each have individual tasks and objectives, it is important that they understand the group goal.
Team Roles
It's obvious that we need to tell individuals what their role is, however sometimes, in haste to get going, we fail to tell individuals what the others in the team are doing. It's essential that each member of the team understand what the others in the group do. It can often develop, particularly for remote teams with distributed members across various sites, that there are members of the team that others barely know exist, let alone what they do. Not only is this isolating for the person involved, it does not help the team unite.
Promote Team Togetherness
It's easy to form as a team if you all sit together at the one site. Such as what typically happens with functional groups, people quickly begin to feel part of a team because they sit close together, use the same coffee machine, share the same manager, as so forth. However, take for example, a project team made up of temporary and part-time members, such as programmers that work only some days on the project, advisors from across the business that get involved on an ad-hoc basic, analysts that are involved in the beginning and then testers who only get involved once the work is ready.
How can you help such a group feel like a team?
ensure there are regular team updates. If in person isn't possible then via video or phone conferencing.
Keep the group updated. A brief team progress report, detailing what has been completed, what is up-coming, and any delays, will help the team members feel knowledgeable about the team and its status.
Encourage team events outside of work. A team lunch can help everyone get to know each other.
Get the Team to Understand Each Others Strengths
A few team exercises can help the group understand each other personality traits and their individual strengths and weaknesses. Appreciating individual styles, such as being introverted or extroverted, can help the team understand how best to work with each other.
Understanding how individuals act in teams can also be helpful. Some people like to take leadership roles, others like to create new ideas, others like to follow through and implement ideas. Appreciation of this can greatly improve team dynamics and avoid difficulties from misunderstandings.
In Conclusion
A manager needs to be proactive in developing an effective team environment. Undoubtedly a manager with have many teams to foster, sometimes with people that do not report directly to them, and sometimes with other factors to consider such as cultural and language differences. It isn't easy however some preparation and continual monitoring will help you support your employees and achieve the best from your teams.
You might also like...