How to Conduct a Performance Review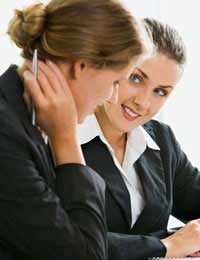 Reviewing performance is one of the most important tasks of a manager (who has staff). One aspect of reviewing performance is writing up the performance report and plan, but another equally important aspect is conducting the performance review with the individual staff member involved.
For both you the manager and the staff member, this is a very important meeting and requires due diligence and attention.
Performance Measures
It is impossible to conduct a Performance Review without measurements to rate against! It is poor management to rate someone's performance on your 'gut feel' or simply on a recent piece of work.
An Effective Performance Review process has Performance Measures that are agreed with the person at the beginning of the period. These are regularly reviewed between Manager and staff member to monitor progress, and at the end of the period these are assessed and rated.
No Surprises
There should be no surprises for the person involved. As a manager, it is your role to provide your staff with regular feedback, both good and bad, so the individual should know prior, how the meeting will unfold. It is very unprofessional for a manager to inform a member of their staff of poor performance, for the first time, at a performance review meeting. Employees deserve the opportunity to address any issues before it affects their review ratings – and it is too late for them to take any action once you are at the performance review meeting.
Focus on the Job Requirements not the Person
Keep the review non-personal. The review is on their performance not on their personality. Comments such as 'you don't have the right personality for the role' are not helpful and can be interpreted in many different ways. Explain what is it that the person is doing inappropriately. Perhaps they are in a role that requires a lot of customer interaction yet they seem very quiet by nature. Discuss with the person if they enjoy the role and raise your concern that they seem uncomfortable dealing with customers. It is likely that if the role does not suit their personality they are not be enjoying the role anyway, and will welcome the opportunity to discuss the problem.
Be Specific
Stick to the Performance Measures and give examples of where their performance has exceeded or has not meet expectations.
Provide reasons for your rating and explain where there may be a difference between what is required for the job and their performance. Any instances of poor performance should have been raised prior to the performance review meeting, however if the performance is still below the level required, it may help to provide further examples.
During the Performance Review:
Try and set the individual at ease. Remember they may be nervous.
Be objective. They might get emotional and that's ok. Remain calm and provide feedback to explain why a rating might not be what they expect.
Allow the person to respond. It can be disappointing to be on the receiving end of a poor performance review and then to feel that you don't have the opportunity to give your perspective.
Be open to review. It may be that you misunderstood something or did not have all the information. Therefore allow the person an opportunity to provide further details and be open to the prospect of changing your rating.
Ask for input. Does the person have any concerns that may be affecting their performance? The performance review meeting is an opportunity to discuss any obstacles.
In Conclusion
Performance Reviews are important milestones in a person's career. Regardless of the positive or negative nature of your review, try to ensure the person retains their self-esteem. A poor review should, after reflection, help the person re-assess their performance and behaviour, and aid them in the long term to be the best of their ability. Above all, the manager's role during a performance review is to be supportive and helpful.
MANAGEMENT TRAINEE IS FOR SALE.
This website is for sale [more info].
You might also like...