Building a Performance Plan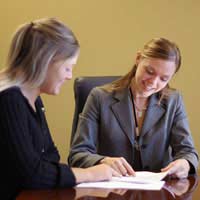 A Performance Plan is a blueprint to help your staff plan their career path. It provides them with measurable objectives and should include both professional and personal goals. A good Performance Plan is built together by both the manager and the employee; it takes time to get right and should incorporate incentives to help the employee achieve his or her goals.
What should a Performance Plan include?
Job Description
This is description of the person's day-to-day job: their duties and responsibilities, and the major aspects of their role.
Goals and Objectives
Before defining the employee's objectives it's important to first consider the organisation's overall objectives.The employee's objectives should fit within and support these overall objectives.
Set time-frames for achieving objectives; some may be achieved quickly while others may span a number of performance appraisal periods.
Remember all Objectives should be SMART: Specific, Measurable, Achievable, Relevant, and Time-based.
Setting Expectations
Employees are motivated when they can focus their efforts towards achieving objectives they believe in. Getting them involved in the process of producing the performance plan helps them understand the organisational goals and to appreciate their role in achieving these. When people are part of a team, it is motivating to understand the part you play in helping that team be successful.
Agreed Standards
What one person considers as acceptable standards may differ to someone else's view, therefore it is important to define what you agree are the expected standards. If you expect the person to take a minimum of ten phone calls an hour, then state this.
What are reasonable expectations? Are you expecting the person to work on average more than the typical working day? If so is it reasonable for them to do this over an extended period? To challenge is great, however some people can be left feeling daunted and overwhelmed if the task is way beyond their abilities.
Ensure you Have Buy-In
If the person does not agree with the plan, or they believe the expectations are unrealistic, they will not be motivated to even try to achieve the targets. Involving the person in formulating the plan will help to ensure they feel the plan belongs to them.
Training and Other Development Opportunities
It may be that the person has goals that are outside the scope of their current position. Consider including other opportunities, such as a part-time secondment to another area, which will help them achieve their career objectives. Is there work that you could give them, outside the scope of their role, which would build skills they need to progress?
It can be de-motivating if someone feels they are in a role that offers few opportunities for growth. Some jobs will have periods where there are few challenges but always try to find other ways to help the person achieve their goals, such as training and education.
Feedback
There is little point writing a Performance Plan and then placing it in a drawer for it to be retrieved in six months time and the person assessed. If the employee is to have a reasonable opportunity of success they need to have regular feedback to know if they are on track.
Be Flexible
It's very possible that a person's role changes dramatically after a Performance Plan has been agreed. Continuing to assess someone on a plan that is no longer relevant is not motivating or realistic. If duties and responsibilities have changed dramatically that the performance plan should also be revised.
Rewarding Good Performance
When objectives have been achieved, both at a personal and at an organisational level, it is important to recognise this. Rewards can mean a number of things, including financial rewards such as bonuses and pay rises, and it can be non-financial such as time-off, praise and promotion.
You might also like...