The Challenges Facing Junior Women Managers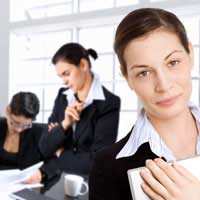 According to Eurostat, the Statistical Office of the European Communities, a third of managers are women. With more and more women moving into management positions, it's important for both men and women to consider the challenges they face.
Work-Life Balance
Although the roles of men and women are changing, both at home and in the office, it is often the woman who bears the brunt of household and childcare responsibilities even when both parties work. Understanding your limits is important; despite best endeavours no one can be super-woman and eventually something has to give: health, family life, or work life. Don't be ashamed of personal commitments, if you have to collect children from childcare then most people appreciate your necessity to leave on time.
Women also tend to stop work earlier than men, which impacts the number of women in senior management roles.
Low Salaries than Men
While the gap is decreasing, women do still, on average, earn less than a man in the same position. The gap tends to lessen and in some cases equal out, or even overtake (in a few cases), as women move into senior management roles.
Is it a Man's World?
Some women managers say so, however it very much depends on the industry. Some women in a male dominated field say they have to work even harder and prove themselves more, than their male counterparts. If in this situation, finding a female manager mentor or an Industry Women's Group can be helpful in developing tactics to deal with these specific challenges.
Discrimination
Sadly discrimination still does exist today despite improvements. Any form of discrimination should not be tolerated and most organisations have processes in place to help staff raise concerns and address any inappropriate behaviour.
Playing Politics
Research shows that women are more intuitive than men, and as managers often excel at public relations and relationship-building. Yet many women struggle with business politics. Keep emotions at home and remain focused on what you want to achieve. Understand your strengths and leverage these to convince others of your ideas. As Jessica Miller, co-author of "A Woman's Guide to Successful Negotiating" says: 'Be yourself, but be the best self you can.'
Stereotype Woman Manager
There is a stereotype that women managers who are successful are tough and ruthless, treating their female subordinates worse than they treat men.
Women managers can sometimes struggle with standing up for themselves, and saying no, for fear they will be labelled uncooperative or ruthless. Try to remain calm and approach the situation in a business-like manner, without emotion.
A Different Style of Management
It is a fact that women and men are different; both socialization and biology means that men and women behave differently, and that includes as managers.
Researchers have discovered that women are faster at transferring data between the verbal left side and the visual right side. Meaning that women tend to be more flexible and find it easier to multitask. Men, on the other hand, are usually left-brain oriented, being better at solving abstract equations and problems.
Women managers tend to:
be better at empowering staff
encourage openness and are more accessible
respond more quickly to calls for assistance
more tolerant of differences, so they're more skilled at managing diversity
identify problems more quickly and more accurately
are better at defining job expectations and providing feedback
In Summary
As can be seen in the statistics, women managers are becoming more commonplace and are playing an important role in many businesses today across the world. Although women managers face many challenges, these are certainly do not stopping many women from being successful. There are many women support networks out there, from individual women who mentor each other in their own organisations, to international groups. Both provide a great source of advice and guidance.
You might also like...