Working with Senior Executives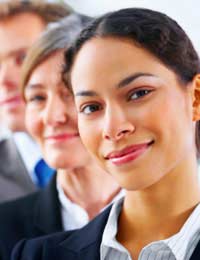 One of the changes that inevitably results from a promotion into the ranks of management is that you are now likely to be working more frequently and in more depth, with Senior Executives. So how is this different from working with other managers?
The Helicopter View
Senior Executives will often want to quickly understand the issue at hand and get to the key question: What do you want them to do? With an extensive list of responsibilities, Senior Executives do not want or need to know details; they need a high level perspective of the situation, the implications of various options (including doing nothing) and your recommendation. While all the facts may seem important to you, what they really want to understand is what they can do to help.
Focus on the Future
Senior Executives are focused on what should or might happen in the future. What you are working on today was likely to be on their agenda six to twelve months ago, and what is important to them today will likely be important to you in the future. It's possible that the most driving issues for them are not yet for general knowledge (including yours) and as such some of their decisions may not seem to make any sense. Bear in mind that they make decisions based on factors that you may not be privy to.
Like to be Forewarned
No one likes to first hear bad news that affects him or her personally in the newspaper (or similarly broadcast); so for Senior Executives. If a project is going bad they do not want to read about it in a report. Likewise if the business has lost an important client they do not want to hear about it on the grapevine. Make the executive aware of the situation in a face-to-face meeting, or a phone call if in person isn't possible. As the manager involved, you need to weigh up the severity of the situation, and determine the right time to involve the Senior Executive.
Delegated Responsibility
You're a manager now and the Senior Executives will expect you to behave accordingly. This means taking initiative and using the responsibility delegated to you. An essential part of taking on a managerial role is understanding the responsibility boundaries you now have and this means having a discussion with your manager about their expectations. Depending on your level within the business, will determine how much leeway you have in terms of decision-making, but all managers are expected to find solutions rather than to constantly seek answers from others.
Working in Partnership
It's important to establish a good working relationship with your Senior Executives. Do they want to meet with you on a regular basis? Do they like reports of presentations? Do they like to receive updates in person or does a short email report better suit their situation? How do they like to receive information – in tables or diagrams, or lists of figures?
Part of establishing any successful working relationship is for each party to understand the expectations of the other. Equally it's important for you to say what you expect from them. Perhaps you need their input in setting an important business strategy; or you need their involvement in communication an important change across the business, either way it's essential to say upfront what you need from them. Any discrepancies between expectations can then be addressed early on and you can avoid disappointment and disagreement late on.
They are People Too
Finally Senior Executives are people too. Sometimes they like to find out about their staff, so while you might be in a hurry to get to the important subject up for discussion, allow them a moment to have some small talk. Small talk is a part of establishing relationships and getting to know one another. And while you may think they are simply too busy to be interested in talking with you, sometimes this is their way of getting to know the people that run their business.
You might also like...